In 1740 Friedrich "the Great" of Prussia ended the Silesian history under the rule of the Bohemians and the Habsburgs with his conquests. Through three Silesian Wars he was able to conquer Silesia and add it to Prussia, thus securing his position of power in Europe. The Seven Year's War (1756 -1763) brought damage and destruction even to some of the Richthofen estates. In the sequel the family managed to constantly increase the number of their possessions, finally counting 31 estates at the beginning of the 19th century. During the Napoleonic Wars (1792-1815) fighting took place in Silesia, too, and family members lost their lives and their properties became battlegrounds. The castle of Brechelshof near Jauer, which served as a hospital, was chosen by General Blücher as his headquarter prior the decisive battle at the Katzbach.

After these years of war and destruction had come to an end, systematic and purposeful economic activities led to growing prosperity. The estates were predominantly located in the districts of Striegau, Jauer and Landeshut until then, yet now new possessions in the districts of Liegnitz, Bolkenhain, Neumarkt, Breslau, Reichenbach and Strehlen were adjoined to the current land holdings of the family. This farmland came with excellent soil. The estates and farmland as well as associated agricultural plants of the Richthofen's were managed by the owner at his own economic risk. The owners frequently changed, even within the same family. Reasons to invest in the purchase of a property were favorable economic structure, especially the quality of the soil, the size, and the adjacent location of the acreages.

The large number of children soon led to a wide-spread family. By means of marriage the Richthofen's formed numerous bonds with several other families. Through all times the female family-members obtained a special position within the family as a result of the prevailing cultural belief, respect for the individual, as well as the regard for their sacrifices especially during times of war. The common cordiality in the traditions of Brandenburg and the similarity of lifestyle allow us to highlight only some personalities of this period of family history, each one representing a special emphasis or attitude in their courses of life.
Carl Ludwig (1733-1795), the fourth son of Samuel and the family´s first Baron of Prussian ennoblement was Landscape Director and Landscape council member of the former princedom of Schweidnitz and Jauer. He was also head of the district authority of Striegau.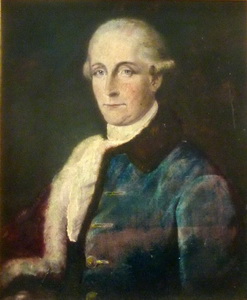 Carl Ludwig (1733-1795), patron, landscape director

After taking over the estate of Groß Rosen from his older brother in 1767, he agreed to become patron of the local church. In this function he was responsible for the construction of a timber-framed prayer-house, that served as church for protestant locals and was financed by funds of the family. Frame-house churches were typically for Silesia by that time (Günther Grundmann, "Der evangelische Kirchenbau in Schlesien", Frankfurt/M. 1970). He and his descendants were buried in the family vault in Groß Rosen. In 1991 the deceased were moved to a grave at the graveyard of the Catholic church of Groß Rosen during a memorial service of the family and the polish church community.

The descendants of his oldest son Wilhelm (1761-1838), ancestor of the "Royn-Schützendorfer" house, were to play an important role in our family´s history.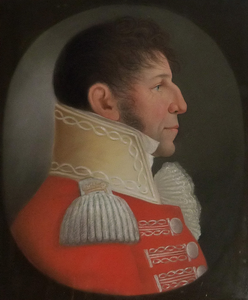 Wilhelm Ludwig Frhr. v. Richthofen (1761-1838)

It was his first son, as well named Wilhelm (1799-1882), who set up the polish branch of our family through marriage to a polish aristocrat. This branch of our polish relatives still exists in female descendants.

His second son Karl (1801-1874), a passionate expert of musical history, converted to Catholicism. He married Ferdinande v. Kulisch (1807-1885), maid of honour at the württembergisch-ducal court of Carlsruhe/Silesia. She was on friendly terms with Caroline v. Schiller, daughter of the German national poet Friedrich von Schiller. Caroline´s letters to Ferdinande are preserved until today.
Ferdinande Freifrau v. Richthofen, née v. Kulisch (1807-1885) and Karl Freiherr v. Richthofen (1801-1874)

Karl (1832-1876), their son, became a Catholic priest. The king of Prussia appointed him capitular of the dome in Breslau. Karl, who could not identify with the dogma of papal infallibility, joined the Old Catholic Church. His brother Ferdinand (1833-1905) became a geographer and explorer, dedicating his scientific life to studying the Asian continent. He is considered to be one of the most important scientists of the 19th century.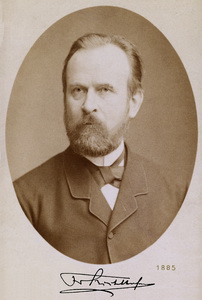 Prof. Dr. phil. Ferdinand Freiherr v. Richthofen (1833-1905), scientist, geographer and renowned expert of the Asian Continent

His student Sven Hedin, the Swedish explorer and geographer, honored Ferdinand´s memory in his obituary.

The major trade routes connecting Asia and Europe also stimulated the transcontinental intercultural exchange. It was Ferdinand von Richthofen, who named them "the Silk Roads", a term that is still used today. Ferdinand's grave at the Südwestkirchhof Stahndorf near Berlin was restored a few years ago, partially funded by our family.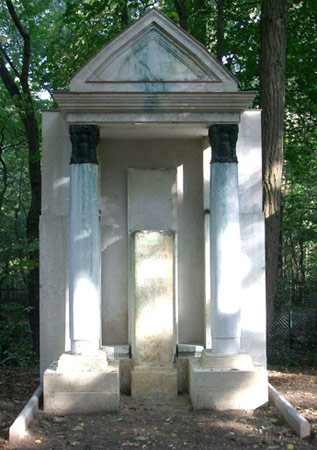 Grave of Prof. Dr. phil. Ferdinand Freiherr v. Richthofen at the Südwestkirchhof Stahnsdorf

His youngest brother Eugen, who, like his father, was interested in music, married Fanny Mendelssohn-Bartholdy (1851-1924), a first-degree niece of the siblings Felix Mendelssohn-Bartholdy and Fanny Mendelssohn-Bartholdy.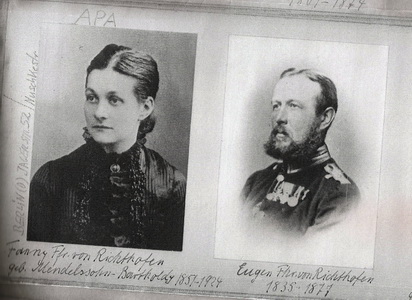 Fanny Frfr. v. Richthofen, née Mendelssohn-Bartholdy (1851-1924) und Eugen Frhr. v. Richthofen (1835-1871), youngest brother of the geographer Ferdinand

Being of Jewish origin his descendants met with considerable hostility during the Nazi regime. Their situation is portrayed in a book called "Unter Preußenadler und Sternenbanner. Ein Leben für Deutschland und Amerika" (Under Prussia's Eagle and America's Star Spangled Banner – Life for Germany and the USA) written by Eugen's grandson Joachim von Elbe (Bertelsmann, 1983).

Looking back at Carl Ludwig (1733-1795), however, we realize that his second son Carl Andreas Samuel (1762-1836, Barzdorf) focused on practical agriculture on his estates after studying at Viadrina. He then developed and published an agricultural theory in coordination with Albrecht Thaer, founder of agricultural sciences in Germany.

Karl Andreas Samuel's son Karl (1787-1841 Brechelshof) studied at Göttingen University where he found an inspiring teacher in Johann Friedrich Herbart, philosopher and educationalist. After his first wife's early death, Therese Freiin Grote (1791-1811 Jühnde), he spent some months with Johann Heinrich Pestalozzi in Iferten, Switzerland, trying to mediate between Pestalozzi and the Swiss educationalist Philipp Emanuel v. Fellenberg.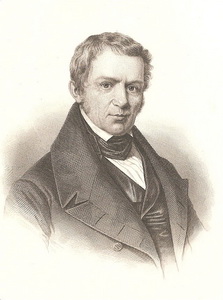 Karl Frhr. v. Richthofen (on Brechelshof, Bersdorf, Rosen, Damsdorf etc.), Royal Prussian chief administrative officer of the district Jauer (1787-1841)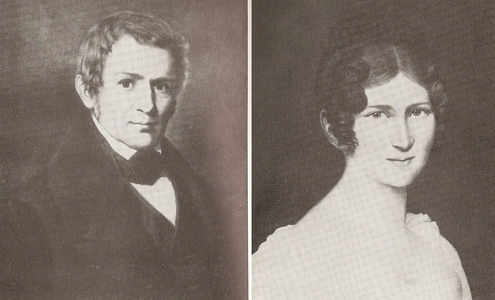 Karl Frhr. v. Richthofen (1787-1841) and Caroline Freifrau v. Richthofen, née Freiin Grote (1793-1871)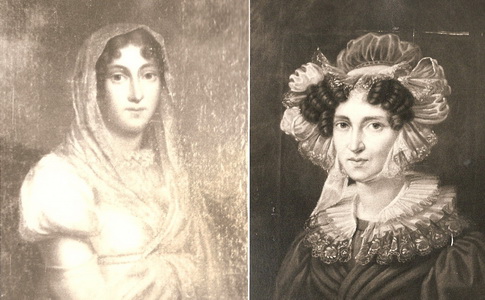 Therese née Freiin Grote (1791-1811) und Caroline née Freiin Grote (1793-1871)

His second marriage with Therese's younger sister Caroline (1793-1871) added to the various marriages connecting both the Richthofen and the Grote families displayed in numerous letters written between 1791 and 1872. They are transcribed and summarized in five volumes in the archives of the Grote family.

Karl had four sons, namely Karl (1811-1888) from his first marriage as well as Ulrich (1814-1878), Bolko (1821-1899) and Ernst (1825-1892) from his second marriage with Caroline. All four of them were extraordinary representatives of the Richthofen family. They extended their property and founded a sugar factory in their adjoining neighbourhoods in 1858, which continued to exist as a family company until 1945. Its facilities were then taken down and transported to Russia. Its workers' houses were preserved.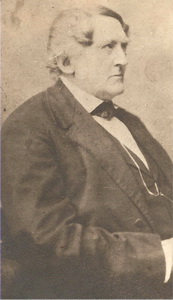 Karl Freiherr v. Richthofen (1811-1888) on Damsdorf, Dr. jur., Dr. phil h. c., Professor of law, University of Berlin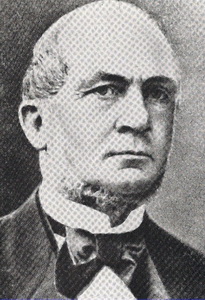 Ulrich Freiherr v. Richthofen (1814-1878)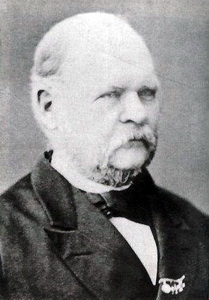 Bolko Freiherr v. Richthofen (1821-1899), Head of Fideicommissum on Groß- and Klein-Rosen etc., Dr. jur., Royal Prussian chief administrative officer, theological author, curator of the family trust

The four Richthofen brothers were acquainted with the Grimm Brothers Jakob and Wilhelm (The Grimm Fairy Tales). In the Grimm Society's yearbook 2000 we can find Wilhelm Grimm's diary entry on a trip to the estates of his Richthofen friends in Silesia in the summer of 1850.

Moreover, Jakob Grimm inspired Karl, the eldest of the four brothers, to do research on Old-Frisian law, which resulted in a multi-volumed piece of work called "Investigations into Frisian Legal Sources". As a professor of law at the university of Berlin he made several contributions to the history of law for the Monumenta Germaniae Historica. He was a liberally-minded man and a member of various parliaments. The family gave his famous collection of manuscripts on Frisian "Landrecht" ("Von Richthofen-Collectie") to the Provincial Library of Frisia, Leeuwarden in 1921. Furthermore Karl's private library consisting of 4250 volumes including a unique collection of documents and works on early Dutch and German History of Law went to Columbia University New York in 1929.

Bolko, the third son (1821-1899, the Groß Rosen line), was a successful agricultural entrepreneur, whose quarries provided the granite rocks for the building of the Reichstag in Berlin. Together with his wife Gertrud, née Freiin von Tschammer und Quaritz (1831-1890), a writer, he joined the Catholic-Apostolic community, which his children and grandchildren accepted for themselves as well.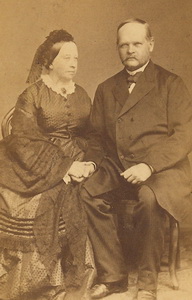 Bolko Freiherr v. Richthofen (1821-1899) and Gertrud Freifrau v. Ricthhofen, née Freiin v. Tschammer u. Quaritz (1831-1890) on the occasion of their Silver Wedding

For his church community Bolko built a chapel on his estate in Groß Rosen, just as he had a church hall erected in a neo-Gothic style in today's Legnica, ul. Henryk, in 1863. it was given to the Pentecostals after World War II. As a patron of the local Protestant church community he had a new church building erected in 1872, in lieu of his grandfather Carl Ludwig's prayer house, which had become dilapidated. The new church was built according to a Prussian regulation decreeing a historicist style. Today it is used by the local Catholic community. Bolko was not only influenced by Pestalozzi's and his father's ideals of co-education but he was also impressed with Johann Hinrich Wichern's concept of Inner (Christian) Mission and his maintaining of the orphanage "Das Rauhe Haus" in Hamburg. Again in cooperation with his wife Gertrud, he therefore founded the so-called "Martinshaus" in Groß Rosen in 1852 – 160 years ago – which anticipated the concept of the SOS children's villages. With its Protestant and its Catholic church buildings as well as the mansion's chapel for the Catholic-Apostolian community, with its crypt and its welfare Martinshaus, Groß Rosen had become a place of ecumenical unity.

Going back to Carl Ludwig again, his fourth son Gottlob (1769-1808 Kohlhöhe and Gutschdorf) was married to Friederike Princess of Schleswig-Sonderburg-Holstein-Beck (1780-1862).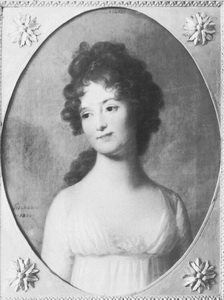 Friederike Princess of Schleswig-Sonderburg-Holstein-Beck (1780-1862)

Her younger brother Duke Wilhelm married the granddaughter of the Danish king Frederik V. belonging to the Oldenburg house. Their son, i.e. Friederike's nephew, became heir to the Danish throne as Christian IX in 1863 being considered "Europe's Father in Law" as the dynasties of Great Britain, Russia, Sweden, Greece and Hannover are his descendants. As a gesture of courtesy Friederike, her daughters and her eldest son Friedrich (1805-1872) – according to the principle of the first-born – were presented with the title of Prussian earldom. This branch of the family joined the pietistic church community of Herrenhuth. Friedrich sold his inherited property, his cousins, however, bought it back. Count Friedrich's personal fate is mirrored in the novel "Soll und Haben" (Debit and credit) by the Silesian author Gustav Freytag.

Let us go back to the oldest branch of the family. Samuel's (1713-1786) two grandsons, Eugen (1810-1896, Reinischdorf) and Lothar (1817-1893, Karlowitz) both married the two sisters Eva and Hulda von Teichman und Logischen, heiresses to the mining company "Georg von Giesche's Heirs".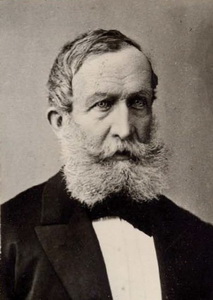 Eugen Freiherr v. Richthofen (1810-1896) on Reinischdorf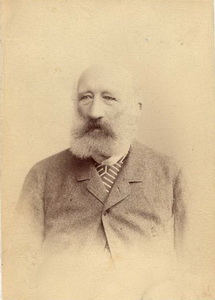 Lothar Freiherr v. Richthofen (1817-1893) on Karlowitz

Lothar was the one who presided over the team of representatives of the company. The purchase of the "Cleophas" mine was his idea. After World War I his son Friedrich-Wilhelm (1855-1929, Jakobsdorf) took his place.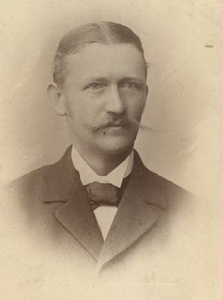 Friedrich-Wilhelm Freiherr v. Richthofen (1855-1929) on Jakobsdorf

Both Eugen und Lothar were members of the St. John's Order just as many of the Richthofen family have always been.
Lothar's son Walter (1850-1898), being an entrepreneurial pioneer, was an honorary citizen in Denver, Colorado/USA, where he built the legendary "Richthofen Castle".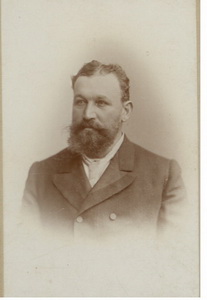 Walter Freiherr v. Richthofen (1850-1898), honorary citizen of the city of Denver, Colorado/USA

Eugen's eldest son Hugo (1842-1904) was chief administrator of Cologne and a minister in the cabinet of the principality of Lippe as well as chief president of East Prussia being successor to Count Bismarck's son. As such he was responsible for the bicentenary celebrations in memory of Prussia having been raised from electorate to kingdom.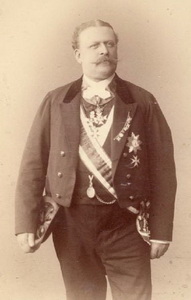 Hugo Freiherr v. Richthofen (1842-1904), district president of Cologne, cabinet minister in the principality of Lippe, head president of East Prussia

His second son Ulrich (1846-1917), Seichau and Petersdorf, was granted the title of "Earl" according to Prussian law.

Being chief administrator of the Berlin region Bernhard (1836-1895, Cammerau) was also Head of the Police in Berlin for the last ten years of his life. His time in office was influenced by anti-Socialist legislation and the resulting tensions between enforcing these laws in the face of assembling opposition groups.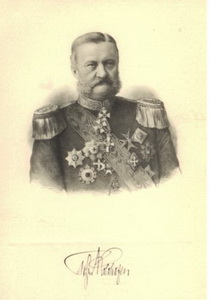 Bernhard Freiherr v. Richthofen (1836-1895), police president of Berlin 1885-1895

The youngest son of Johann Praetorius v. Richthofen (1712-1761), named Dieprand Oswald, generated the youngest branch of the family, which presents us with numerous extraordinary people, i.e. Emil (1810-1895, PhD), who wrote the first part of the "History of the Richthofen family".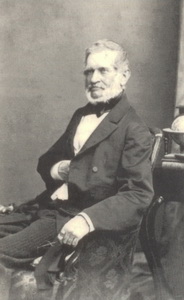 Emil Freiherr v. Richthofen (1810-1895)

After completing a degree in law his second son Ludwig (1837-1873) started a career in administration, first in Minden and later in Gütersloh, where he became mayor. In his time of office the so-called "Sparkasse" was founded, a bank supported publicly by the commune. Ludwig fought in the wars of 1864 and 1866 and was wounded in the battle of Langensalza. When the duchies of Schleswig and Holstein became Prussian provinces he took part in the re-organisation of the administration and became head of the district of Eiderstedt leading the third association of owners of dyked land in Schleswig.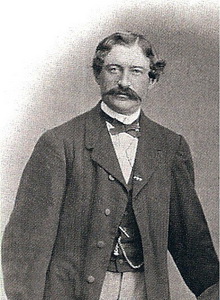 Ludwig Freiherr v. Richthofen (1837-1873), chief administrative officer of the district Eiderstedt

Oswald Freiherr v. Richthofen (1847-1906) served as head of the colonial department in the Foreign Office (1896-1897) before he became sub-secretary and later permanent state secretary of the Exterior in 1900 until his death in 1906. It was his great grandson Patrick who dedicated a biography to this liberal-minded minister in the Bülow cabinet, named "Jahre der Entscheidung. Der kaiserlich-deutsche Staatssekretär des Auswärtigen Amtes Oswald Frhr. v. Richthofen 1847-1906" (Years of Decision Making. Oswald Frhr. v. Richthofen, permanent secretary of state in the German Emperor's Foreign Office 1847-1906), published at Alyscamps Press 2007.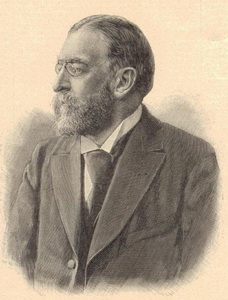 Oswald Freiherr v. Richthofen (1847-1906), state secretary